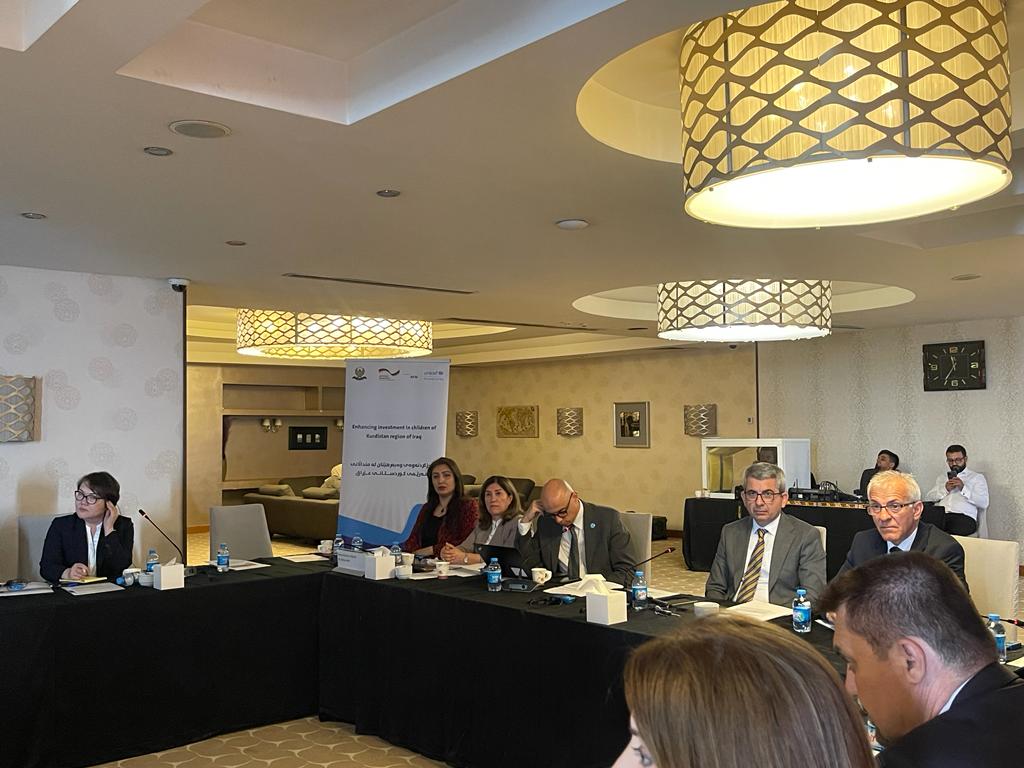 On behalf of the Minister of Planning, together with the general director of cooperation and coordination for development in the Ministry of Planning, president of KRSO supervised a meeting with the deputy ministries of education, labor and social affairs and participation of the advisors and general directorates from ministries of education, labor and social affairs, municipalities and tourism and representatives from the Coordination and follow up Office in the Presidency of the Council of Ministers. The meeting was held on 24/5/2023 at Didaman Hotel in Erbil.
This meeting was organized with the cooperation between ministry of planning and UNICEF in order to present the results of the study of "more investment for children in Kurdistan region" in the sectors of education, social, water and sanitation.
The study analyzed the details of allocated budget to these sectors over the past 10 years and reviewed the data and indicators provided by the Ministries of Planning and finance for both operational and investment budgets of the government during that period, as well as distribution of the two budgets to meet the needs despite the successive crises over the past 10 years.
To better understand the participants' opinions and reflections, the results of the study were openly and transparently discussed in this meeting. it was requested for deeper analyzing the results and outcomes to enable relevant stakeholders to better adjust their programs and strategies serving the interests of children in Kurdistan.
It should be noted, in the next phase of this project, the Ministry of Planning in cooperation with UNICEF will jointly work with the relevant ministries to implement the recommendations and policies outlined at the end of this meeting.